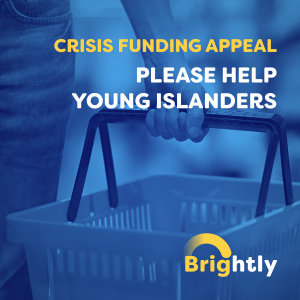 In these difficult times, many young people in Jersey aged between 16 to 25 years who have been through the local care system, are struggling to meet their basic needs.
Some have lost their jobs and for most, having to stay home means increased use of electricity and phone credit to keep in touch with the outside world.
Our charity is fundraising to give these care-experienced young people vouchers to help them buy groceries, electricity and phone top-ups. We are working with the Government of Jersey and other local charities to avoid duplication and to target our crisis support for as long as is necessary.
Brightly are giving care-experienced young people £25.00 per week for two weeks in Sandpiper and Co-op vouchers to help them during these difficult times. This is specifically to help them buy some store-cupboard foods, top-up phones to help them keep in contact with the outside world and a little towards electricity, whilst they have to stay inside a lot more.
All of our usual fundraising events have been compromised with most having been cancelled, due to the pandemic, so we are urging you to support our crisis funding appeal if you can.
We are facing what has become our greatest public health emergency in living memory.
Please help us to help young islanders in particular need.
'Thank you very much for the vouchers during this time it is very much appreciated as on reduced hours from work.'

Again thank you
'It's M here, thanks for the food vouchers they have helped a lot as money is tight at the moment but when work starts again I'll be alright.'

Thanks again.
M.
'Thank you so much for vouchers it has helped me a lot while we have been on lockdown and me being off work sick as well.'
'Hi there, Just wanted to say cheers for the vouchers over the last few weeks. It's been helpful being able to shop somewhere other than the co-op. Keep up the good work.'

Kind regards,
Q
'I just wanted to say a quick thank you for the vouchers you've kindly given me over the past few weeks, they've been really of help as now I'm working, I am obviously paying all my bills, rent etc myself with no other help, so usually I'm not left with a lot at all so I really do appreciate it. I hope you are well and keeping safe!'

Kind regards,
C
'I hope you had a lovely Easter despite everything that is going on. I just would like to say a massive thank you for helping with vouchers through this difficult time! They have been incredibly helpful helping to keep my electric and fridge topped up with everything I need at such an uncertain time.'

Kind regards,
S