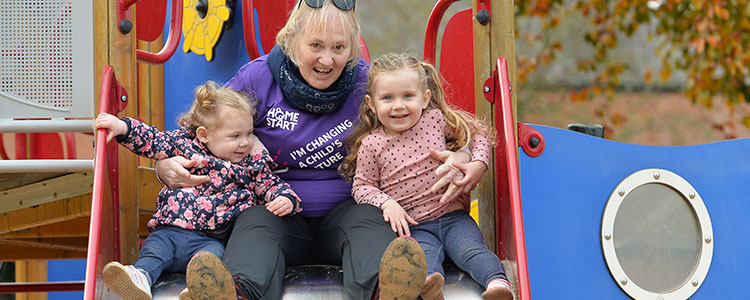 Volunteer FAQ's
Volunteer for Home-Start Jersey and make a difference to an individual/ family in your community. By volunteering for Home-Start Jersey, sharing your knowledge and experience, you can transform the lives of children, young people and their parents in our community.
If you want to get involved but have a question, the answer may be here.
Q: What is Home-Start?
A: Home-Start is a national charity with a community network of 13,500 trained volunteers, supporting 56,000 children and 27,000 families a year in over 200 local Home-Starts across the UK.
We recruit and train volunteers to help families with young children. Home-Start's team of trained volunteers make sure a child's early years count. By volunteering just a few hours each week you can transform the lives of young children and their parents in your community.
Volunteers can offer their support through volunteering as a:
Q: Can I Volunteer during COVID-19?
A: Yes – families still need support during the COVID-19 pandemic. Many local Home-Starts are now encouraging Digital Volunteers to support families in their local area, others may be doing Walk and Talk sessions or Door Step support.
Q: What kind of families would I be helping?
A: All kinds of families can find it hard to cope, for all sorts of reasons. Maybe they need support because of the illness or disability of a child, or because of a parent's post-natal illness, bereavement or loneliness. Whatever the reason they come to Home-Start families are offered non-judgemental, confidential support.
The families that we work with, like our volunteers, come from all walks of life. During the local pilot programme, which will run throughout 2022, we will focus our support on three specific target groups:
care leavers aged 16-25;
families with pre-school children, where a parent is care experienced; and
families with pre-school children, where a child or a parent is experiencing poor health.
Through your training the Home-Start Jersey team will get to know you and will match you with an individual/ family where they think you will be able to make the most difference. You may share a similar experience, you may come from a similar background, or they may think that you would just be the perfect match.
Q: Can my support and friendship really make a difference?
A: Absolutely!
All parents know that those early years before school are vital in a child's life and at Home-Start we believe parents have the key role in creating a secure childhood for their children. It's just that sometimes they need a bit of help... your help.
Q: Do I need any qualifications to be a volunteer?
A: It depends on the role. Mostly what we look for is friendliness and a caring attitude, as well as an understanding of the pressures of parenting. We value people who don't judge others and who will treat a mother or father as an equal.
We also offer training and support throughout your time with us.
Q: Do volunteers get any training?
A: We are very proud of the training and support we provide for our volunteers. We invest in our volunteers from day one, ensuring they are supported by a paid member of staff throughout their time volunteering with us.
Q: What would I get out of volunteering for Home-Start Jersey?
A: We know that volunteering with us can also have a huge impact on our volunteer's life too, our research tells us that our volunteers have:
better health and well-being
improved personal and skills development
improved chances for work
and more self-confidence
Q: Who is undertaking the initiative in Jersey?
A: The long-established local charity Brightly (formerly Brig-y-Don Children's Charity) are funding and piloting this initiative. See www.brightly.je for further information about the history and work of the charity.
Home Start Jersey
Find out more about Home-Start Jersey.
More Info
Volunteer Application Form
Home-Start is committed to safe recruitment practice.
More Info
Volunteer Specification / Role Description
Person specification and role description for a Home-Start Jersey volunteer.
More Info
Volunteer Stories
Take a look at our volunteer stories.
More Info